This is the new short movie of Director Steven Clein . Well Known for his collaboration with Madonna and Lady Gaga . (full- movie at the end of te post)
Film has a duration of 17 minutes it 's a clear narration of Madonna something like a ''retouched diary of Madonna'' . Talking about freedom of Art , Freedom of Sexuality and Relegious Beliefs or any Other infringments against human rights.
It's a black and white movie ,inside a prison maybe this fits well with the words that Madonna says at 0''37 ''THE ENENY IS NOT OUTTHERE THE ENEMY IS WITHIN''
Basically It's a speech - puzzle of words spoken by Madonna around the world when she was on tour and some already spoken famous words with the mix of contemporary dance from her favorite dance - partners.
From youtube post details...
'' The film launches Art ForFreedom, a global initiative to further freedom of expression,




created by Madonna, curated by VICE, and distributed by BitTorrent.
Art ForFreedom encourages the world to express their personal meaning of freedom and revolution in the form of video, music, poetry, and photography. Join the revolution by uploading original artwork to ArtForFreedom.com or tagging original posts #artforfreedom. ''
Some things i liked inside this '' Freedom'' narration are noted down here.
0''37 ''THE ENENY IS NOT OUTTHERE THE ENEMY IS WITHIN''
1''24 ''ALL YOU NEED FOR A MOVIES IS A GIRL AND A GUN '' Jan Luc Godard
1''32 ''I DID MY TOUR DUTY THIS YEAR... I SAW DESPERATION ,POVERTY ...AND A KIND OF SINISTER BLACK CLOUD OF HYPOCRISY MOVING DOWN ON ME''
2''15 ''PUTTING EVERYONE IN TO A KIND OF A TRANCE''
2''28 ''AN EXCUSE TO DO NOTHING..AN EXTERNAL ENEMY TO BLAME''
3''00 ''I KEEP TELLING EVERYONE I WANT TO START A REVOLOUTION BUT NOONE TAKING ME SERIOUSLY,IF I HAD BLACK SKIN AND AN AFRO WOULD YOU TAKEN ME SERIOUSLY ? ,IF I WERE COMBAT GEAR AND I HAD AN AK47 ON MY BACK WOULD YOU TAKEN ME SERIOUSLY''
3''15 '' INSTEAD I AM A WOMAN I AM BLOND I HAVE TITS AND ASS , AND AN INSATIABLE DESIRE TO BE NOTICED''
''OK BUT I STILL WANT TO START A REVOLUTION SOMEBODY 'S GOT TO ! , THERE SO MUCH BEAUTY IN THE WORLD GOING TO WASTE ,TOO MUCH TALENT GOING UNNOTICED TOO MUCH CREATIVITY BEEING CRUSHED BENEATH THE WHEELS OF CORPOR BRANDING AND WHAT'S TRENDING . BUT ITS TIME TO WAKE UP BEFORE IT'S TO LATE HISTORY 'S REPEATING ITSELF DON'T YOU SEE A PATTERN HERE ? WE LIVE IN A VERY SCARY TIME , OR SHOULD I SAY WE DON'T LIVE AT ALL ? ''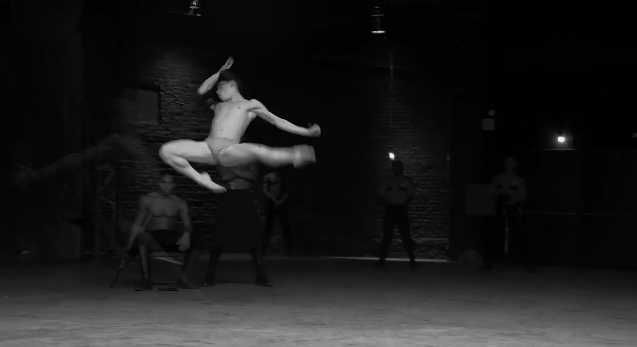 ''DEMOCHRACY DOESNT SEEM TO EXIST ANYMORE ,FREEDOM OF EXPRESSION SOUNDS LIKE A CATCH PHRASE AND IF YOU WANNA BE AN ARTIST IN THIS DAMN AGE YOU D ' BETTER HAVE STRONG ARMS ,YOU'D BETTER BE PREPARED TO SWIM UP STREAMING SHOCKING FESTED WATERS YOU BETTER HAVE FIX SKIN.
BECAUSE WHEN THIS FASCIST DICTATORS POSING WHATS WRIGHT FOR MEN , COME FOR YOU WITH THEIR BIG LEATHER BOOTS TO SHUT YOU UP ,TO PUT A GAG ON YOUR MOUTH TO SEND YOU AWAY ..
YOU D BETTER BE PREPARED TO FIGHT FOR WHAT YOU BELIEVE IN , I USED TO THINK I HAD A BIG SKIN BUT RIGHT NOW I FEEL LIKE I HAVE NO SKIN ..YOU D BETTER BE PREPARED TO DIE FOR WHAT YOU BELIEVE IN .''
7''23 '' I DONT FEEL SAFE LOTS OF PEOPLE DONT FEEL SAFE THATS WHY I WANT TO START A REVOLOUTION BUT THIS REVOLUTION WONT BE TELEVISED ,IT WILL NOT BE IN THE INTERNET , I WILL NOT BE AVAILABLE ON YOUR I PHONE , YOU WONT BE ABLE TO DOWNLOAD IT ''
'' I WANT TO START A REVOLOUTION OF LOVE, .. WILL OVERCOME OFF YOU ..IT WILL INCLUDE ALL PEOPLE BLACK, WHITE, CHRISTIAN ,CHINESE, MUSLIM,GAY ,STRAIGHT,BISEXUAL,FAT, BEING HANDICAPED,RICH,POOR,ARTISTIC,UNARTISTIC. FUCK LABELS I HATE LABELS WE ARE ON THIS SHIP TOGETHER SAILING LIKE A BURNING SPEAR ACROSS THE SEA BURN BABY BURN .''
13'35 ''WHY DIDNT I WAKE WHY I DIDNT LISTEN TO ALL THOSE VOICES IN MY HEAD ''
15'22 '' I KNOW WHAT YOU ARE THINKING I YOU CAN STAND THE HEAT GET OUT OF THE KITCHEN BUT ITS TOO LATE I AM ON THE KITCHEN AND THE BURNERS ARE ON FULL BLAZE