Klaus Von Barrel and
his
music project
'
the KVB
'
from UK
,is

a part of the underground bands with dark vocals and lo-fi synths. They belong to the independent post punk and dark wave scene. Several music reviews liken their music to that of Joy Division. It is worth noting that the singer and founder of

the KVB is also the lead member of Die Jungen , a retro pop band with cinematic style.

In my recent communication with Klaus , I asked him about his music but also for the live performance on Thursday, April 5 in Greece (Thessaloniki city) .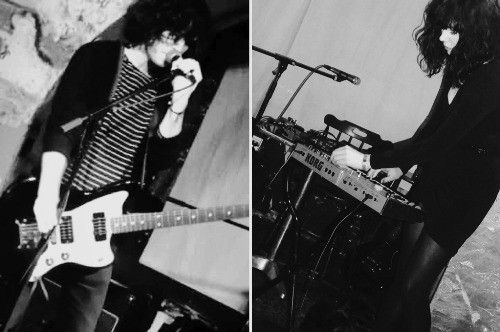 Η
ello Klaus,

tell me about your band how did you start your band , what is your music like ?
I started The KVB back in 2010, initially as a solo recording project. Since then I have been joined on synth's & visuals by my girlfriend Kat and it has become a live and recording 'band'. The sound of the music comes a mixture of influences, from kraut rock, shoe gaze, industrial, psychedelic, post punk etc.
It comes from my 'name' : Klaus Von Barrel.
What is the main concept and the main places that gives you inspiration .
The concept is to make the music I want to make. The inspiration comes from everywhere I've been and every where I want to go.
Your are about to

perform live in Thessaloniki on COO bar

, how did you got the invitation ?
Through Antistars, our EU booking agents.
What are we going to listen to on your live performance ,here ? Is there a new work or album ?
We'll be playing a mixture of the new LP, 'Always Then' alongside older tracks and we even have a brand new, soon to be released track in the set too.
What music instruments and media do you mainly use on your live performance ?
I use a fender jazz master along with lots of pedals, Kat will be playing the Korg synthesizer and the drums/backing tracks come from our Boss RC 3
Is it the first live performance in Greece ? Have you ever been again here ?
This will be our first live performance in Greece and our first ever trip. So we are very excited to be coming!